The national finals of the 2021 Chinese College Students Engineering Practice and Innovation Ability Competition came to a successful conclusion at Tsinghua University on September 18. This competition adopts the "Internet-based distributed competition model", and 601 teams from 267 colleges and universities are distributed in 26 competition venues across the country to complete the cloud competition.
As the designated supplier of PCB electronic circuit production in the competition, Mengzhimo Company brought the industry's advanced technology, stable equipment and experience of supporting the competition for many times into the competition, and provided a brand-new desktop T Series for 224 teams in 11 competition areas. PCB rapid board system, and carry out competition guarantee and on-site support.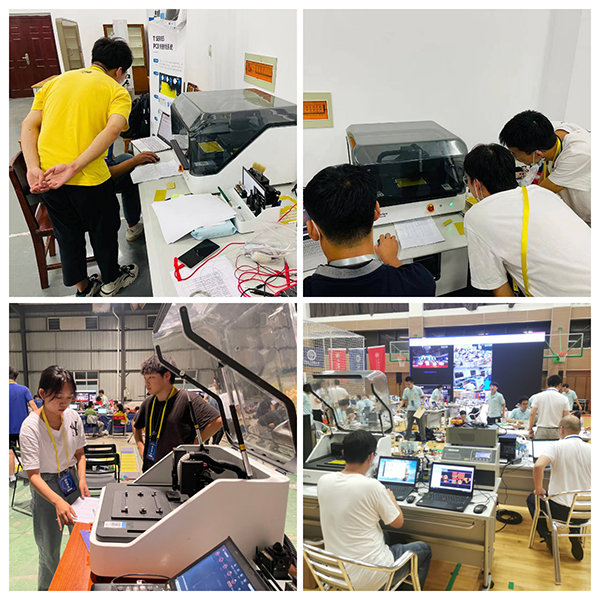 Students at the competition site use the T Series PCB rapid board making system

The desktop rapid board system used at the competition site is the T Series PCB rapid board system announced by Mengzhimo recently, and this competition is an all-round test of this system. Living up to expectations, the contestants said that this desktop rapid board making system is practical and easy to use, bringing great convenience to electronic design and production.
T Series PCB rapid board making system is a desktop-level system based on non-contact printing technology. It uses exclusive liquid metal composite materials, combined with controllable extrusion technology, to quickly complete punching, hole metallization, circuit printing, character silk screen printing, It can also print solder paste to achieve desktop-level reflow soldering.
T Series PCB rapid board making system supports real-time production of single-sided and double-sided boards, and meets the needs of rapid proofing and verification of circuit boards and small batch production of multi-category circuit boards. It is suitable for teaching support, engineering training, technology competition and innovation. It is an essential tool for electronic design in various scenarios such as entrepreneurship.